Medical
ATI's team of experienced engineers provides medical device development support to a wide spectrum of clients from independent entrepreneurs and start-up companies to established multinational corporations. Drawing on several decades of design and engineering expertise, ATI has been instrumental in the development and commercialization of:
Drug Delivery Devices for the control and delivery of inhaled, ingested, and transdermally administered pharmaceuticals
Optical Devices for the visually impaired and for use in disease detection
Packaging of electronic and optical devices for the medical industry.
Automated test and measurement equipment for medical device validation and facilitation of laboratory testing procedures.
Computer and mechanical modeling of anatomical features for corrective intervention research.
ATI invites you to contact us to learn how our experience with medical device development would be instrumental in the success of your medical venture.
Medical Case Studies:
Anatomical Model & Fixture
Objective: Design and construct a custom anatomical lower body skeletal model for use in a clubfoot research project with the following characteristics/tasks: Scale adult medical image data to fit a 5 year old male anatomy. Customize hip and knee joint shape to allow for normal anatomical movement (rotation, flexion/extension, adduction/abduction). Blend two models (normal pelvis/femur/tibia/fibula […]
Cervical Scope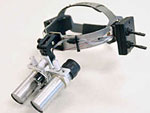 Alpha Prototypes Beta Prototypes Objectives: To design a cervical cancer inspection scope that: Can be manufactured and sold at low cost to under resourced regions Utilizes inexpensive and readily available components Light weight and rugged Require little maintenance and can be repaired with local resources Design Features: 8X Binocular viewing Inter-ocular adjustment […]
Medical Telescope
Objective: To design a miniature telescope that: Is rugged yet low mass. Is manufactured in large volumes. Is accepted by the target population. Design Features: Damped low friction focus. Shared components 4X and 6X mag. Parallax compensation. Sealed against dust intrusion. Accepts filter and diopter accessories. Materials/Process Selection Criteria: Injection molded gear mechanisms. Injection molded […]
Personal Pill Dispenser
Objectives: Complete early stage development of a device which is capable of regulating dosages of narcotic or other controlled medications to patients in an FDA-approved device. Key Features: Consistently and accurately delivers a single dosage on a timed schedule. Resists tampering and provides evidence of intrusion. Capably communicates with a base station through wireless […]
Metered Dose Inhaler, Spacer/Diffuser
Objective: Design an efficient, low-cost, FDA approved, inhalation therapy drug delivery device for volume production that: Outperforms competitive devices. Reduces drug plate-out due to static charge. Improves drug dispersion in the air steam. Is usable by a broad range of patients. Engineering Tools and Prototype Fabrication Acquire and evaluate rigid and elastomeric parts using […]