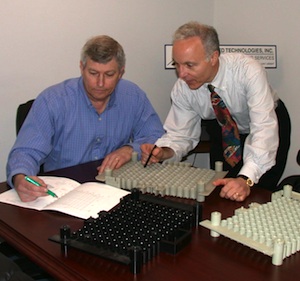 Why Work With Us?
At ATI, we realize that even the best-equipped companies may lack the internal expertise to solve specific issues- or perhaps lack the volume of resources to complete a project in a required timeframe.  We also realize that sometimes an unbiased third party perspective can be invaluable when looking to explore an opportunity or solve a particular issue.
Whether it's the development of new products or, upgrading / correcting issues with a current product, ATI is here to help.
For the last 20 years we have utilized our now cumulative 140 years of expertise in mechanical design, materials selection, and process implementation to provide practical engineering solutions to even the most difficult engineering design challenges – on time and within budget.
Our solutions result in functional, cost effective and manufacturable end products for the consumer, industrial, and medical markets.
Our areas of concentration include:
Functional packaging of mechanical, electronic and optical systems
Electrical power transmission component development and design
Materials and process selection for plastics applications of all types
We fulfill a full range of client needs by providing:
Clearly stated functional and economic goal setting
Creative and cost effective solutions to difficult engineering challenges
Detailed design and engineering documentation
Prototyping services
Objective program analysis at each stage of development and
Manufacturing hand-off support
We are experts at producing end-products that are functional, user-friendly, cost effective and reliable; in a timely and cost effective manner. Let us help you achieve your personal or corporate goals so that you may enjoy the personal satisfaction and recognition of a successful project while having the ability to focus on the achievement of new and ever more significant goals.
We invite you to sit down with our team members to review you product development needs and explore the manner in which we can support you in achieving your product development goals. Please pick up the phone right now and give us a call at (919) 980-1420. We look forward to speaking with you.